Erythritol CAS NO 149-32-6 For Food Grade
USAGE:
Erythritol, a polyol (sugar alcohol), is a good-tasting bulk sweetener
which is suitable for a variety of reduced- calorie and sugar-free foods.
It has been part of the human diet for thousands of years due to its
presence in fruits and other foods. Erythritol has a high digestive
tolerance, is safe for people with diabetes, and does not promote
tooth decay.
Fit for human consumption. Free from any harmful or toxic
substances. Free from foreign matter.
Erythritol is a very popular sweetener, which is unique natural polyol sweeteners with non calorie and clear cool mouth feel.
Erythritol is a polyol (sugar alcohol) which is very popular for use in baking and as a general sweetener in low carb diets.
Erythritol, as alternatives to sugars and as part of a comprehensive program including proper dental hygiene has been recognized
by the American dental association.
1. Erythritol  can be widely used in baked products, all kinds of pastries, dairy products, chocolate, candy, table sugar, chewing gum, soft drinks, ice cream and other foods, not only better to keep the food color, flavor, but also can effectively prevent food spoilage.
2. Erythritol glycol is very suitable for diabetics because it is not easy to be degraded by enzymes, so it is not involved in glycemic metabolism and glucose changes. It can also be used as a substitute for low-calorie health food, which is very suitable for patients with obesity, hypertension and cardiovascular
3. Erythritol is not fermented in the colon after consumption, so it has obvious value added effect on bifidobacterium, which can avoid gastrointestinal distress and enhance human immunity.
4. Erythritol, decay resistance function of sugar alcohol is very obvious, is the main reason of the caries occur due to corrosion of streptococcus mutans of oral teeth enamel, because of erythritol, sugar alcohol cannot be used by the pathogen, and thus made of candy and special cleaning teeth to protect children's oral health has a very positive role.
Specifications
| | |
| --- | --- |
|  Product Name | Erythritol |
| Item | Specifications |
| Appearance | white powder |
| Assay: | 99.5%~100.5% |
| Particle size: | 18-60 mesh |
| pH: | 5.0 ~7.0 |
| Melting point: | 119℃ ~ 123℃ |
| Conductivity: | Max 20μS/cm |
| Residue on ignition: | Max 0.1% |
| Loss on drying: | Max 0.2% |
| Heavy Metals: | Max 0.5 ppm |
| Lead: | Max 0.5 ppm |
| Reducing Sugar: | Max 0.3% |
| Ribitol and Glycerol: | Max 0.1% |
| Total Bacteria Count: | Max 500 cfu/g |
| Yeast&Mold | Max 50 cfu/g |
| Coliforms: | Max10MPN/g |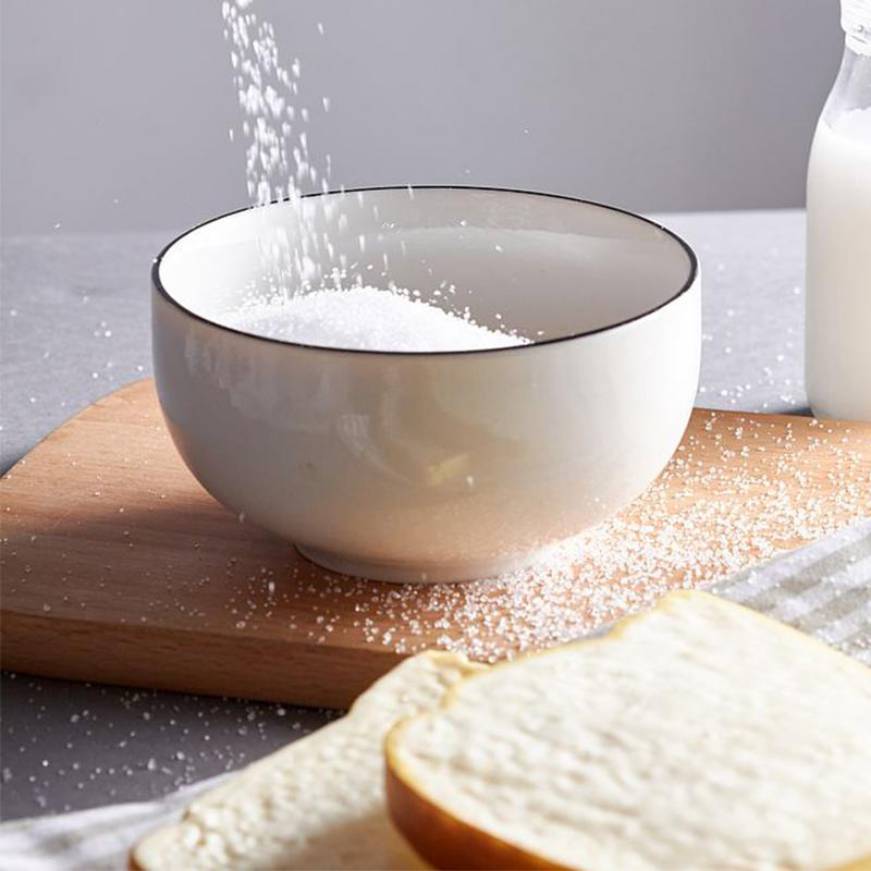 ---
---